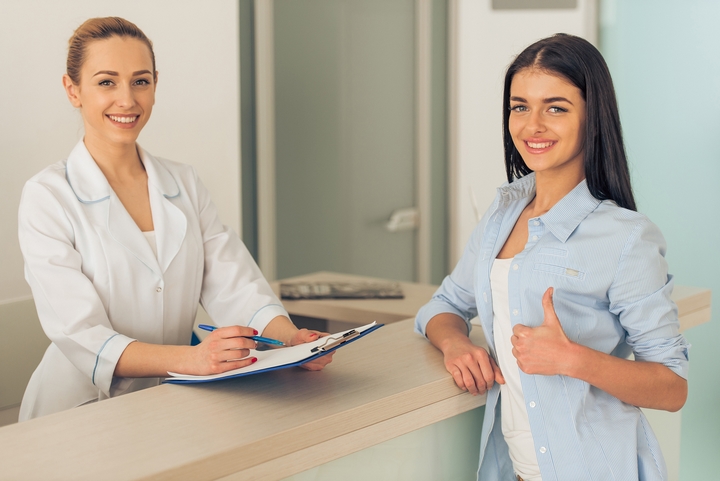 7 DAILY MEDICAL RECEPTIONIST DUTIES AND TASKS
Medical receptionists create the first impression on patients when they walk into a clinic or when talking over the phone. They bring tremendous value to the organization and allow nurses and doctors to focus on what they do best.
A great medical receptionist thinks fast, solves complicated problems, and makes clients feel as though they are in good hands. Being able to swiftly adapt to new situations is crucial in this role. At some point, you will be called upon to solve problems that pop up at the most inconvenient of times.
The importance of medical receptionists can't be underestimated. While most employees in the office only focus on their duties, a receptionist interacts with a diverse group of people throughout the organization.
The duties of a medical receptionist range from handling tricky phone calls, calming down distressed patients and transacting medical accounts to fixing office equipment. To understand how critical their work is, here are seven medical receptionist duties:
DUTY #1: ADDRESSING PATIENTS CONCERNS AND ENQUIRIES
In this medical receptionist duty, displaying strong customer service skills by treating every customer with respect and dignity is crucial. A medical receptionist is required to address the concerns and enquiries of patients via phone, email, or in person. They are expected to provide answers to questions. They are the go-to people for everyone seeking clarification on any issue. For instance, a patient might want to know about their treatment entries and charges. In this case, the ability to communicate clearly, both verbally and in writing, is crucial.
Clear communication fosters a comforting and transparent environment for the patients. Sometimes it's not what you say that's important, but how you listen.
When you listen to patients, they feel understood. A good medical receptionist understands this. To maintain effective and collaborative relationships, they use tact, professionalism, and patience when dealing with a patient or their relatives.
DUTY #2: MAINTAINING OFFICE AND MEDICAL SUPPLIES
Another important medical receptionist duty is maintaining office and medical supplies. Medical receptionists place orders for supplies and maintain inventory. They replace equipment and materials as needed or as instructed.
A medical receptionist is responsible for sterilizing and cleaning medical instruments and equipment. It's also part of the job to deliver and dispose of supplies, materials, and equipment. Ideally, your background in medical office administration courses will help you with this responsibility.
DUTY #3: SCHEDULING AND CONFIRMING PATIENTS' APPOINTMENTS
This can be done in person, by email, or over the phone. A medical receptionist books appointments for both routine care and registered and unregistered patients seeking urgent care. They coordinate with the patient to obtain the necessary medical records prior to examination. They match patient requirements with physician specialists and assist with external referrals to other specialists such as oncologists and radiologists.
Medical receptionists schedule and confirm patients' appointments. They meet organizational demands and possess time management skills. Having strong multitasking skills is critical since they work in a dynamic, fast-paced environment.
DUTY #4: GREETING AND REGISTERING PATIENTS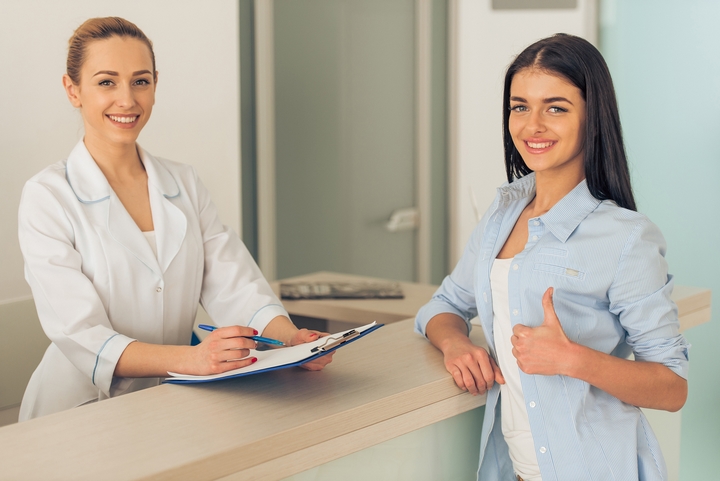 A medical receptionist is required to greet and register patients in a friendly but professional manner. For registration, they clarify the type of assessment by conducting interviews and giving out questionnaires. As a result, they gather and sometimes update information from the patient's records. They also assist patients to complete forms and documents, such as insurance forms.
A medical receptionist deals with a diverse group of people and builds positive relationships with them. They set high standards of patient care.
DUTY #5: REDIRECTING OR ESCORTING PATIENTS
After confirming a patient's appointment, a medical receptionist redirects or escorts them to the allocated examination or treatment room. They also ensure that the appropriate instruments are set up. In some cases, checking patients' weight, height, blood pressure, and temperatures is part of the job.
DUTY #6: COMPLETING CLERICAL AND ADMINISTRATIVE TASKS
Clerical and administrative tasks include data entry, medical billing, and medical records maintenance. Such tasks involve managing all incoming and outgoing calls, mail, emails, and faxes. Other tasks include recording, entering, compiling, and reporting data. They also prepare, edit, and proofread medical reports besides receiving and recording payments.
Medical receptionists also file and sort medical files, create, record, transcribe, type, draft, and update all manner of documents, including exam notification letters or third-party forms and letters.
Clerical and administrative tasks demand strong attention to detail. A medical receptionist has to follow instructions accurately and thoroughly.
Staying focused during highly repetitive tasks such as entering and reviewing data is a critical skill for a medical receptionist. Administrative skills, such as proficiency in computer word processing, database application and spreadsheets, and specialized clinical information systems, are extremely useful.
DUTY #7: MAINTAINING CONFIDENTIALITY
A medical receptionist has to be trustworthy. Managing sensitive and confidential information is part of the job. Having a strong work ethic and showing exceptional professionalism will earn the trust of an employer.
Organizational skills are also critical attributes of a medical receptionist. Nothing beats a receptionist who knows exactly where important documents are stored.
A receptionist is the voice and face of a medical practice. The position demands a professional appearance and attitude. It's critical that such a receptionist understands and abides by confidentiality regulations to ensure trust across a clinic.